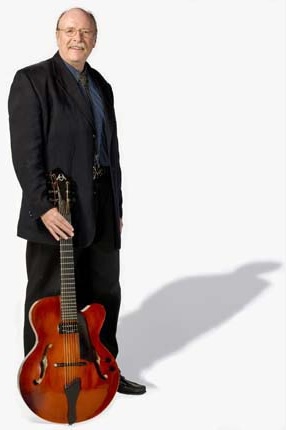 Welcome to the Musical World of Dan Dowling
Dan Dowling received 2013 New Mexico Music Award for Best Arrangement of an Original Composition for "Daybreak" from The Trailing Edge CD!
Dan's CD titled "The Trailing Edge" features Dan's 7-string, archtop-electric guitar and includes grand piano, upright bass and drums with a mix of originals and jazz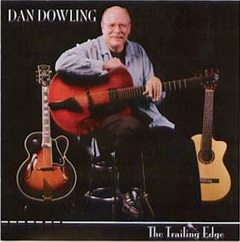 standards. Purchase copies at CDBaby.com.
Dan Dowling has enjoyed a multi-faceted career as a touring and recording musician and music educator since 1971. He is a leader in his area of musical expertise and has recorded three additional CDs: Gila Detour (1992), Hide and Seek (2001), and With Strings Attached (2010).
After living in Nashville, Tennessee from 1993 to 2003, Dan now resides in his hometown of Albuquerque, New Mexico, where he performs regularly in Albuquerque and Santa Fe and teaches both individual guitar lessons at GuitarVista and jazz and blues improvisation classes for the New Mexico Jazz Workshop.
In his spare time, Dan enjoys walking his two Australian Shepherd dogs, going to theater, concerts and car shows with his wife Martha, and working on and driving his 1951 Chevy panel truck.
Listen to samples and purchase Dan's music at CDBaby.com. View Dan's performance schedule now!
For booking and/or further information call (505) 266-5313 or email Dan.
"Orioles first baseman Chris Davis may have the prettiest swing in baseball right now. What makes it so pretty is its highly effective economy. Nothing's moving that doesn't need to be. What is moving is doing so in a fluid, highly coordinated sequence of events that appears effortless. There's no flash at all — until the ball leaves the bat head and buries itself deep into the bleachers You see where this is going, no? Guitarist Dan Dowling's swing has all the characteristics of Davis's: economy, fluidity, apparent effortlessnss, and a satisfying payoff — deep in your ear and down into your tapping toes. There are no histrionics, no flashy pyrotechnics, no grandstanding, but there is plenty of comfortable, staight-ahead jazz, played with a sensitive aplomb . . . Dowling's performances — clean as a whistle and straight to the point — have a satisfying graciousness about them that a cursory hearing won't get. It's a gentleman's jazz that Dowling plays, polished, well-groomed and accomplished."
— Mel Minter (www.MelMinter.com – July 2013)
"Dan Dowling's fourth released CD as a leader, The Trailing Edge, is an excellent straight ahead jazz CD that mixes original compositions and jazz standards . . . Dan, a seven-string guitarist, showcases his talent throughout the CD with beautifully written compositions, tasteful solos, great arrangements, and thoughtful interaction with his bandmates. On the standards "I've Grown Accustomed To Her Face" and "Blame It On My Youth," Dan's solo guitar introductions would stop any listener in their tracks."
— Dr. Brandon Bernstein (Just Jazz Guitar – May 2013)
"A fine effort from guitarist Dan Dowling. Dowling's writing is strong throughout . . . clean, sparsely electrified tone and skillful blending of single line improvisation and traditional chord melody . . an impressive introduction to the talents of Mr. Dowling."
— Jim Fisch (20th Century Guitar)
"Nicely constructed chord melody . . . showcases Dowling's command of harmonization . . . a fine musical effort."
— Vince Lewis (Just Jazz Guitar)